Extracorporeal Shockwave Therapy
Extracorporeal Shockwave Therapy is a treatment that is used in orthopedics, physiotherapy, sports medicine, that can result in fast pain relief and mobility restoration.
Extracorporeal Shockwave Therapy
Shockwaves are high energy acoustic waves that are directed into injured tissues with subacute, subchronic and chronic conditions.
This energy wave promotes regeneration and reparative processes in muscles, ligaments, and tendons.
The acoustic waves interact with bodily tissues to reduce pain; increase blood flow in surrounding tissues; stimulate collagen formation and healing; dissolve calcifications in soft tissues; and help restore mobility and function.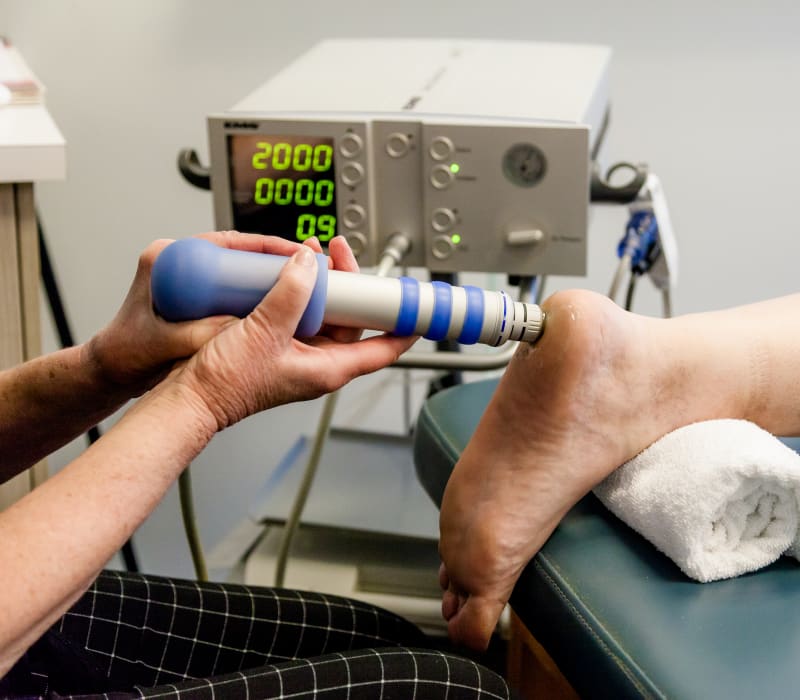 What conditions can Shockwave therapy treat?
Heel spurs
Plantar Fasciitis
Chronic heel pain
Hip pain
(e.g. trochanteric bursitis)
Shoulder pain
Chronic Tendonitis
Calcific Tendonitis
Jumper's Knee
Tennis and Golfer's Elbow
Muscle insertional pain
Morton's neuroma
Trigger finger
How many treatments are necessary?
The number of treatments necessary depends on the type of injury or condition being treated, and the tissue's response to the treatment. Extracorporeal Shockwave Therapy treatment has a cumulative effect, so most people need more than one treatment, and can expect to notice a change or relief after 2-4 treatment sessions.
What can I expect during my Shockwave appointment?
Your first appointment for Extracorporeal Shockwave Therapy at Nepean Sports Medicine & Physiotherapy Centre will start with a detailed assessment, during which your physiotherapist will determine if Shockwave is an appropriate treatment choice for your complaint.
If Shockwave is right for you, the next steps is the actual application of Shockwave treatment, which lasts only a few minutes. You may experience mild discomfort during treatment, and your physiotherapist can adjust the intensity of the treatment depending on your level of comfort, ramping it up more gradually to minimize discomfort. After the treatment is complete, the remainder of your appointment will be spent with your physiotherapist, who may also use a combination of manual therapy and exercise to treat your problem.  Massage therapy and/or orthotics may be recommended.
Since Extracorporeal Shockwave Therapy is provided by one of our registered physiotherapists, it is covered by most extended health insurance plans.
Is Shockwave Therapy Right For You?
To learn more about Extracorporeal Shockwave Therapy and to find out if it's right for you, please contact Nepean Sports Medicine and Physiotherapy Centre today!