Our professional team of physiotherapists and massage therapists in Nepean is trained to evaluate and manage the unique conditions that affect children, from infancy through adolescence.
Physiotherapy Services for Children
Our therapists make rehabilitation fun! We motivate kids to take a keen interest in their own recovery and health.
We work in partnership with parents of younger children to provide the education and support they need when it comes to assisting their youngsters during the recovery process.
Our spacious gym is stocked with all the necessary equipment to return your child to full physical function. Our physiotherapists have helped many young athletes return to their sports, at both recreational and elite levels.
Above all, it's our goal is to encourage children to lead active healthy lifestyles.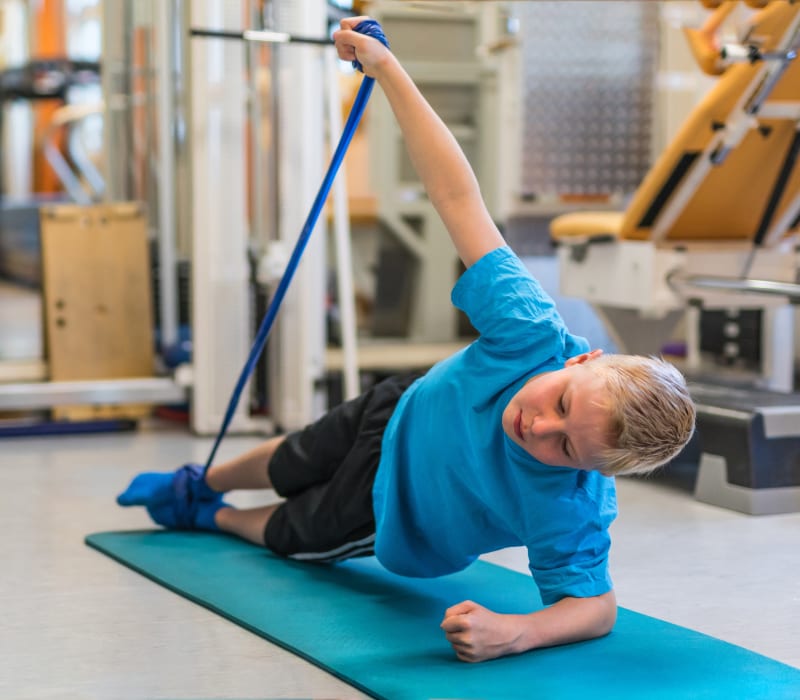 Common Children's Conditions Managed by Physiotherapy
Patello Femoral Pain Syndrome
Osgood-Schlatter's Disease
Sever's Disease
Osteochondritis Dessicans
Scoliosis
Scheurmann's Disease
Ligament Sprains of the Knee (ACL, MCL, LCL)
Ankle Sprains
Shin Splints
Achilles Tendonitis
Hip Flexor Strains
Hamstrings Strains
Swimmer's Shoulder
Patellar Tendonopathies
Mechanical Back and Neck Pain
Headaches
Groin Strains
Fractures/Dislocations
Post-surgical Repair of Fractures, Ligaments, Dislocations
Meet Our Kid Friendly Team
Our team physiotherapists have passion and over twenty years of clinical experience in paediatric orthopaedics and sports medicine. With a special interest in children's growth and development, members of our team can work with paediatricians, families, teachers, and coaches to address issues of growth, injury prevention, and overall physical development.