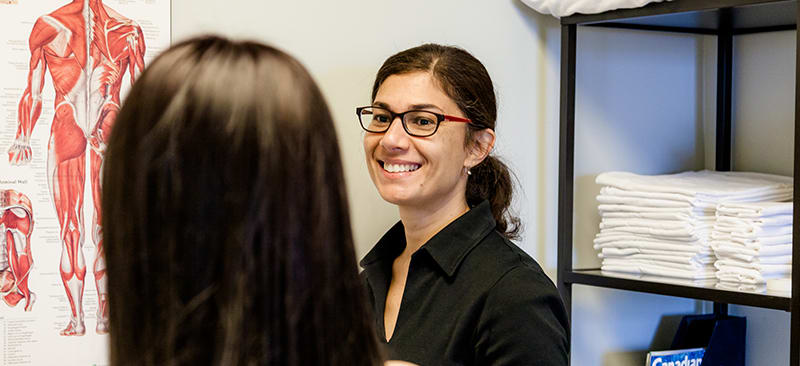 At Nepean Sports Medicine & Physiotherapy Centre, our experienced, professional team will work with you to determine the root of the problem you are experiencing, and create a rehabilitation plan based on your specific needs.
What to Expect at
Nepean Sports Medicine & Physiotherapy Centre
Our physiotherapy clinic offers everything you need to get you back in motion, including:
Convenient location, just a short drive from Barrhaven, Kanata, and Ottawa
Ample free parking
Ground floor clinic
No referral required
Private treatment rooms
Multifaceted approach to treatments
Physiotherapy, Massage and other treatments under one roof
Dedicated clinicians who are experts in their fields
Treatment for men, women, and children
One-on-one treatment with your clinician
Injury Prevention and Rehabilitation
At Nepean Sports Injury & Physiotherapy Centre, an ounce of prevention is worth a pound of cure. Preventing injury an pain before they occur is always better than treating them once they already exits. We take a proactive approach to treatment and use preventive analysis and therapies to normalize our patients' movement patterns to prevent injuries from occurring – or re-occurring.
We engage in ongoing professional education.
Our team regularly attends conferences and courses to keep their skills and knowledge up-to-date with current research. This allows us integrate new research findings and clinical skills into our treatment plans, and provide he very best quality of care.
We provide evidence based, client-centered care.
We provide treatment based on scientific evidence in a friendly, welcoming and professional environment. We take a holistic approach to therapy and treatment, and consider rehabilitation to be more than just pain resolution; the ultimate goal is a better quality of life going forward.
We discover and treat the root/source of your problem.
We want you to fully understand your injury and pain, to better and more efficiently recover. Quite often, the spot that hurts you is not the actual origin of the problem. Finding and treating the real source reduces the risk of recurring problems and slower recovery.
We believe strongly in a relaxing and friendly clinical environment.
We love developing long-term friendships with our clients! Our team believes in taking the time to educate you, tell you what is wrong and what you can do about it.  It's not just what we can do for you.