The physiotherapists at our Nepean facility offer specialized treatments and services for pelvic floor conditions, as well as prenatal and postpartum care, with a focus on women's health.
What is pelvic physiotherapy?
Pelvic physiotherapy is the assessment and treatment of conditions related to the pelvic floor and any symptoms that manifest themselves in that area. Pelvic Floor (Pelvic Health) Physiotherapists have specialized postgraduate training that includes using internal and external manual techniques to evaluate pelvic floor muscle function.
We are proud to offer virtual physiotherapy appointments so that our clients can start or continue treatments from the comfort of home. If you prefer, our physiotherapists are happy to conduct your consultation virtually to discuss private or sensitive matters.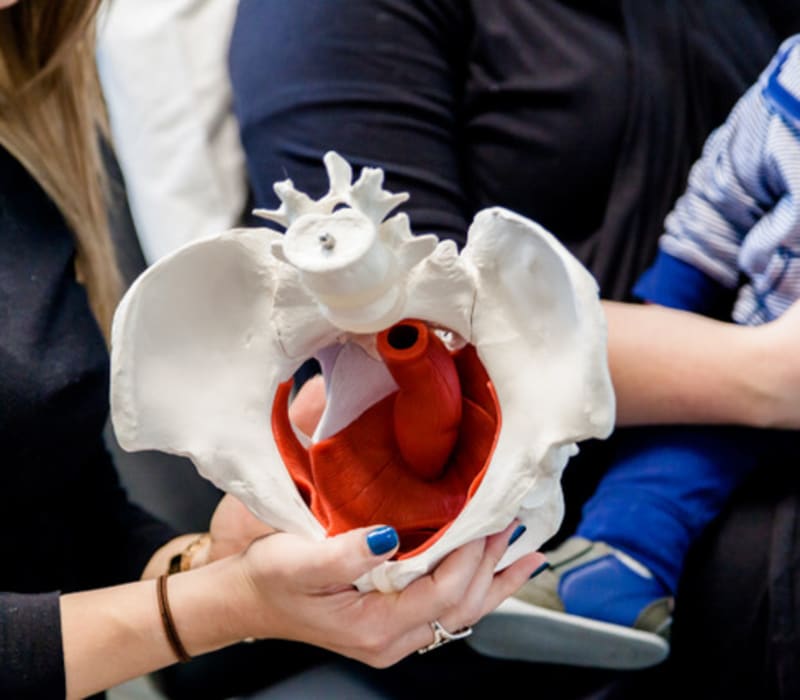 The Importance of the Pelvic Floor
The pelvic floor includes muscles, ligaments, nerves and connective tissue. The pelvic floor plays a critical role in the body, providing support for the abdominal and pelvic tissues and organs. It also helps with urine and bowel control and contains the muscles that contract during orgasm.
When the pelvic floor muscles become weakened, reduced bowel control and urine leakage can occur. For this reason, pelvic floor muscle training is very important, particularly for women after childbirth.
Although a healthy pelvic floor is integral to our health, many women (and men!) feel embarrassed to admit that they are suffering from pelvic floor dysfunction. As a result, it often goes untreated.
Silence on the subject results in a lot of unnecessary suffering – but it doesn't have to be that way!
Pelvic Health At Our Nepean Clinic 
We want to help you feel comfortable when talking with us about your pelvic health. You don't need to feel embarrassed; we are here to help you!
The Pelvic Physiotherapist at Nepean Sports Medicine & Physiotherapy Centre is specially trained to provide internal assessment and pelvic health services.
We provide our pelvic physiotherapy services in a quiet, private treatment room.
We take care to provide a non-intimidating environment and make sure that our patients feel safe, comfortable and fully informed about their conditions and any related treatments. 
Consultation

In our private treatment room, your physiotherapist will start by compiling a detailed history of your symptoms. They will ask you about the many other potential symptoms you may be experiencing that can go with pelvic floor dysfunction, such as sexual function, urine and fecal elimination, low back, hip and tailbone symptoms.

These questions may seem rather personal and unrelated, but if there are issues in any of these areas, they can often be related to pelvic floor dysfunction.

Your Pelvic Physiotherapist may also ask you to fill out a questionnaire in order to give her a better idea of what is contributing to your specific symptoms.

Assessment

Next, your Pelvic Physiotherapist will begin a series of physical assessments. The nature of these will depend on your symptoms, and may not all be completed on the first visit. 

Your physiotherapist may assess your low back, SI joints, the connective tissue of the abdomen and thighs, and/or your pelvic floor itself.

A pelvic floor assessment is an internal exam that seeks to pin point trigger points in the pelvic floor, and assess the strength of the pelvic floor.

Treatment & Results

Your treatment will take place in a closed-door treatment room at our clinic that is solely dedicated to pelvic physiotherapy. Your comfort and privacy are our first concern.

Once your Pelvic Physiotherapist has completed the exam, they will discuss their findings with you.

They will give you exercises or other "homework" to do, and tell you when and how often you should return for treatment.

They will explain what changes you should expect to see, and how long you should expect your treatment to take.

They will give you time to ask questions.
Conditions That We Can Treat
Pelvic floor dysfunction and the conditions related to it are extremely common, but many people feel too embarrassed to seek help. The Pelvic Physiotherapist at our Nepean clinic can help you recover pelvic function and comfort.
Pelvic Floor Physiotherapy FAQs
Read our pelvic health FAQs to learn about the conditions that can affect this area of the body, and what to expect from pelvic physiotherapy at Nepean Sports Medicine & Physiotherapy Centre.
Interested in pelvic floor physiotherapy?
Our physiotherapists have specialized training in the evaluation and treatment of pelvic floor dysfunction. We can address issues affecting anyone, including urinary and bowel control issues, pelvic pain, painful intercourse, pelvic organ prolapse, pre and postpartum issues, erectile dysfunction, and much more.