In accordance with the Ontario's Chief Medical Officer of Health, Public Health, and our College governing bodies guidelines, Nepean Sports Medicine & Physiotherapy Centre is open and ramping up to safely provide our full range of care! 
We have reopened with a safe and efficient plan to keep our staff & clients safe.  We are continuing to offer virtual physiotherapy and dietitian care for clients that are deemed appropriate, and/or wish to maximize their physical distancing.     
---
Check out our quick video for details for your upcoming visit:
---
Please contact us, by e-mail or online website form, to describe your situation.  Please note that we are continuing with virtual care services, and this will remain the preferred option, when and where possible, to minimize exposure risk to staff and clients.

For in-clinic appointments, please note that we are screening all clients with Public Health Ontario's
COVID-19 questions at appointment booking and upon check-in; and masks are mandatory in clinic. 


Before your next visit, we encourage you to perform a self-assessment using Public Health Ontario's self-screening tool: https://covid-19.ontario.ca/self-assessment/.
---
We would like to inform you of the additional health and safety precautions we have implemented for our reopening:
Prior to appointment booking, we will be performing a risk assessment and screening for all clients, using the Public Health Ontario COVID-19 screening questions.
If this is your first time visiting the clinic, you will be emailed our intake and consent forms once your appointment is scheduled. At your earliest convenience, we ask that you review these forms, complete them, and email them back to us, ideally prior to your appointment. You will receive instruction on how to do so when you receive the forms.
Please use the bathroom prior to your visit.  Our facilities are available, and disinfected regularly, but we are trying to minimize risk.
Please bring any therabands you own to your visit, for use with demonstration and exercise programs.
When you arrive, you will curbside check-in (call the clinic from your car or the sidewalk, to check in).

You will be asked the COVID-19 screening questions again.
We will call you in to the clinic when our space is ready for you, if the screening questions do not indicate any risk.

We ask that only clients enter the clinic; guests must remain in the car, unless they are a parent or caregiver for a minor.
Prior to entry you will need to have your mask on.  (Masks are mandatory at all times in clinic).

Upon entry, you will be asked to sanitize your hands.
We encourage you to use contactless payment methods (debit, Visa, MasterCard). Your receipt will be emailed to you.
Additional cleaning & disinfecting procedures are in place between client interactions, and throughout the clinic, with Health Canada approved COVID-19 products.
Staff must complete COVID-19 screening before each shift.
We observe meticulous hand hygiene practices throughout the day and hand washing before putting on PPE and handling any commonly touched items.
We observe physical distancing, with appointment bookings, clinic usage, and staff interactions.
---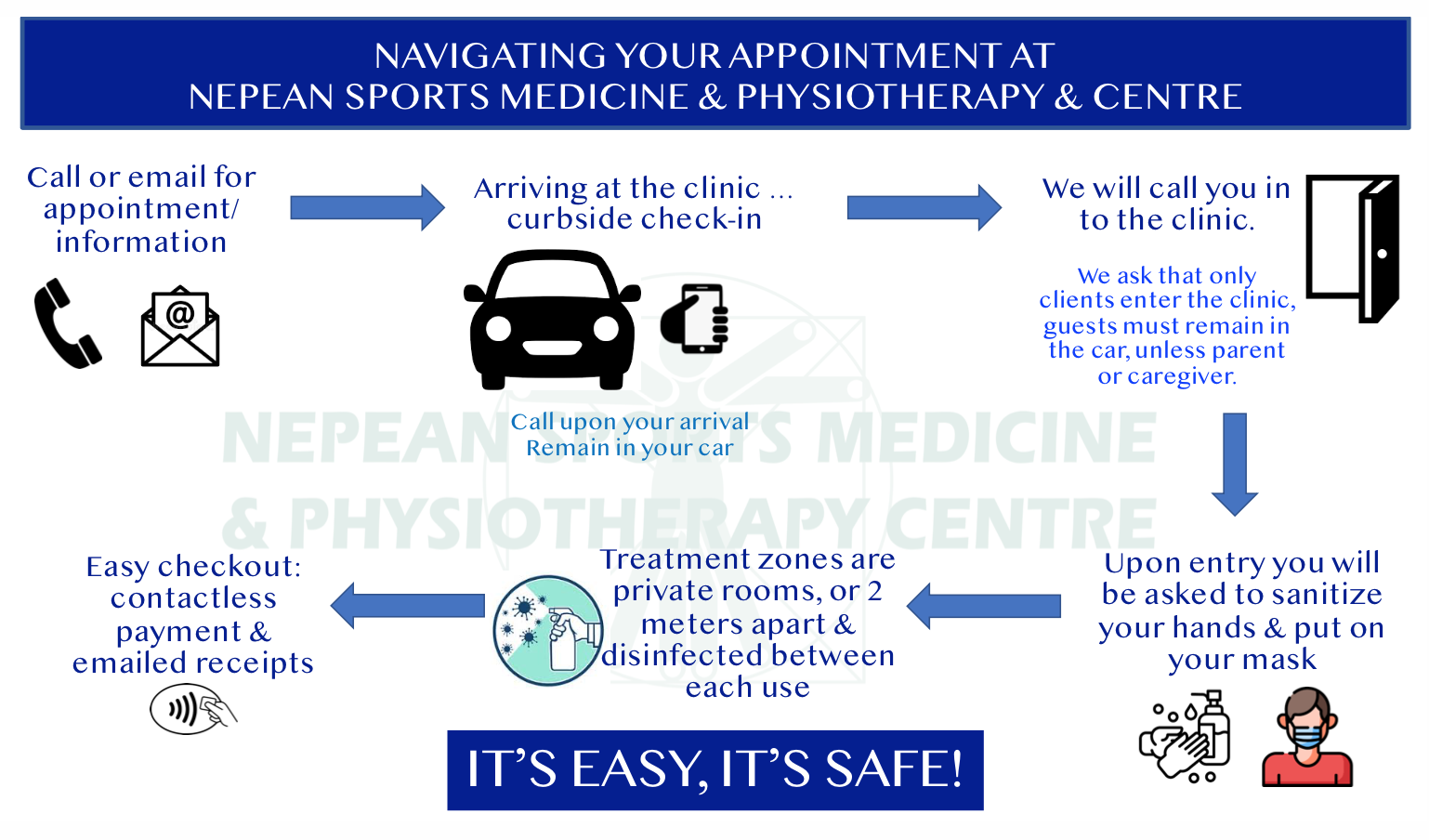 For all patient visits, we: 
Perform a risk assessment and screen all patients in advance of the appointment booking. A therapist may then call you, to further discuss your therapy needs and determine the best form of care (virtual care OR in-clinic session).

For Virtual Care sessions

:

Consent forms and health history forms will be sent to you for completion and return, prior to your booking. 
We utilize encrypted video conferencing platforms that are PHIPA and PIPEDA compliant, for your safety and confidentiality.
A "discovery videoconference" session may be arranged to answer any questions you may have, while testing the connection and features of such a visit.
At booking, credit card (MasterCard or Visa) details will be collected, and securely stored. Payment will only be processed after each consultation, and you will be emailed a receipt for your records.

For In-Clinic sessions

:

Clients are encouraged to wear a mask or face covering when arriving in clinic.
Remainder of steps listed above.
Between patient visits, we: 
Clean, disinfect and sterilize all equipment and treatment spaces.
Wipe all operatory surfaces with disinfectant.
In the reception area, we:
Disinfect all counters and surfaces.
Make antibacterial hand rub available.
Complete payments with contactless methods (debit, MasterCard, Visa). 
At least daily, we:
Empty standard garbage receptacles and change liners.
Clean floors.
Clean and disinfect high touch wall features (light switches, thermostat, door handles, ledges, etc.).
Clean reception area, administrative areas and rooms.  
Clean and disinfect all bathrooms.
We keenly recognize our shared obligation and duty to minimize the spread of COVID-19 and to protect the health and wellbeing of our patients, staff and the broader community.
Thank you for your cooperation, and for helping our reopening to be safe and successful! We can't wait to see you.
Ready to improve your mobility and get active?
Contact Nepean Sports Medicine & Physiotherapy Centre today.